Lebanon MP: Poor chances of winning behind Aoun's boycott of election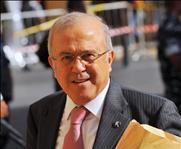 Future MP Mohammad Qabbani told Future TV that Free Patriotic movement leader MP Michel Aoun is boycotting the municipal election in Beirut because he clearly knows that his chances of winning are very poor.
Qabbani added : Aoun is participating in the Mukhtar election in Beirut because he sees better chances.
Qabbani defended the fact that the whole of Beirut will be one district in the municipal election" because we consider Beirut as one united and indivisible capital. "
Hezbollah also  decided to boycott the election in Beirut in solidarity with FPM , even though it originally agreed to include one of its members in Hariri's "Beirut Unity" electoral list .
Update
Pharoun : Aoun provocative and arrogant
In a related development March 14 MP Michel Aoun told Future TV that consensus with Aoun failed because of his impossible demands, his provocative and arrogant behavior. He said Aoun insisted on including an opposition Sunni in the electoral list .
He added:" Aoun should not be boycotting the election , he should instead be asking his supporters to vote with blank ballots "