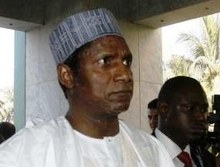 Fifty-eight-year-old Nigerian President Umaru Yar'Adua died at his presidential villa on Wednesday, state TV has said.
A presidential aide and the information minister confirmed his death. Mr Yar'Adua, who became president in 2007, had been ill for some time.
The government announced seven days of national mourning and said the president would be buried on Thursday.
Vice-President Goodluck Jonathan – who became acting president in February – will be sworn in later, reports say.
The Nigerian Television Authority interrupted its normal programming to announce the news, in a brief statement early on Thursday.
The announcer said: "The president and commander-in-chief of the armed forces, Umaru Musa Yar'Adua, died a few hours ago at the presidential villa.
"Security aides notified the national security adviser, General Anou Bissou, who immediately called the acting president. The late president has been ill for some time."
Mr Yar'Adua, a Muslim, will be laid to rest later on Thursday in his home state of Katsina, in the north of the country.
Heart condition
Reports from Nigeria said Mr Yar'Adua died between 2100 (2000 GMT) and 2200 (2100 GMT) on Wednesday in the capital, Abuja.
In November, Mr Yar'Adua went to a hospital in Jeddah, Saudi Arabia, for several months, during which time he was not heard from, apart from a BBC interview.
He told the BBC by telephone in January that he was recovering and hoped with "tremendous progress" to resume his duties.
A presidential spokesman said at the time that he was being treated for acute pericarditis, an inflammation of the lining around the heart.
His long absence and the lack of detailed information about his health led to a political limbo in Nigeria that was only filled when Mr Jonathan was named acting president.
Mr Yar'Adua returned to Nigeria later in February, but Mr Jonathan remained as acting president.
There had been tension between the two men's supporters and in March Mr Jonathan dissolved the cabinet and later put his own team in place.
Elections were scheduled for next year.
Mr Yar'Adua's election in 2007 marked the first transfer of power from one civilian president to another since Nigeria's independence in 1960.
He came to power promising a long list of reforms, including tackling corruption and reforming the inadequate power sector and the flawed electoral system.
But the area in which analysts say he made the most progress was in tackling the unrest in the oil-rich Niger Delta, by offering an amnesty to rebels.
Mr Yar'Adua was seen as a straight man, a quiet, religious person who was a good administrator, says the BBC's Africa analyst Martin Plaut.
But his continuous illness hampered his efforts at reform, our analyst says. BBC