Gemayel: I would only visit Syria if this will benefit Lebanon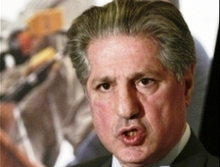 Lebanon's former president and Phalange party leader Amin Gemayel told al-Akhbar newspaper in an interview published Thursday that he would only visit Damascus if such a trip would be in favor of Lebanon's national interest.
"If it was beneficial to go to Syria for the national interest (of the country), then I won't hesitate," Gemayel said adding "it wouldn't be aimed at making useless initiatives.
Gemayel stressed that Syria should take steps to build trust between Beirut and Damascus and should have willingness to change.
"The exchange of ambassadors and opening of embassies was a personal initiative from President (Bashar) Assad. We appreciate it and consider it a positive (step), but it is not enough," Gemayel told al-Akhbar.
Gemayel lauded dialogue between the two countries' authorities but criticized Free Patriotic Movement leader Michel Aoun's reconciliation with Damascus which he said "didn't make a radical change" in Lebanese-Syrian ties.
In response to a question about Progressive Socialist Party leader Walid Jumblatt's latest visit to Damascus, Gemayel said the MP made the trip "to settle personal" problems with the Assad regime "so did Prime Minister Saad Hariri."
"Syria should respond positively to them with more openness to heal wounds and speed up solutions for pending issues," Gemayel added.