Qatar PM meets with Hezbollah chief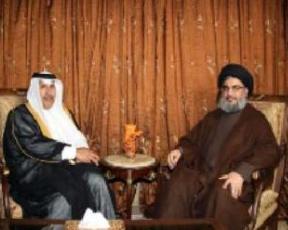 Qatari Prime Minister Sheikh Hamad Bin Jassm al-Thani , who is currently in Lebanon on an official visit met for talks with Hezbollah Secretary General Sayyed Hassan Nasrallah (at an undisclosed location) in Lebanon on Saturday, Hezbollah said in a statement.
Nasrallah has been in hiding since the 2006 Israel-Hezbollah war in Lebanon.
According to the statement , the two discussed the latest domestic and regional developments, including Israel's recent accusation that Syria supplied Hezbollah with Scud missiles and "Arab responsibilities" towards the Palestinian cause, according to Hezbollah.
In addition, the two officials also discussed developments in Lebanon since the signing of the Doha Accord in 2008, the statement added.
The Qatari premier has met with several Lebanese officials since his arrival in Beirut on Wednesday. He and Lebanese Prime Minister Saad Hariri, signed 13 agreements.
The Qatari premier concluded his official visit to Lebanon on Saturday and heading back to Doha at 4:00 p.m. local time, according to National News Agency