Lebanon Cabinet formed a commission to deal with food safety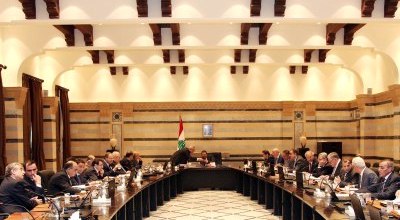 Lebanon's Information Minister Tarek Mitri briefed the press following Tuesday's cabinet session at the Grand Serail
Food Safety
The cabinet agreed to form a commission to coordinate between relevant institutions on managing problems related to food safety.
The commission will be headed by Prime Minister Saad Hariri and includes ministers Hussein al-Hajj Hassan, Mohammad Safadi, Ibrahim Najjar, Ghazi Aridi, and Apraham Dadayan
Agriculture Minister Hussein al-Hajj Hassan said Monday that authorities discovered a shipment of spoiled sesame seeds at the Beirut port as well as spoiled food in a company in the Bekaa.
Hariri stressed those compromising food safety would be punished and praised Hajj Hassan's related efforts.
Hariri also called on the media to deal seriously with the food safety issue and expose all facts about any spoiled food products found in the country .
Labor Unions
Hariri said that the government is keen to consider and address the demands of the workers in a spirit of shared responsibility between the State and the labor movement.
MP Hashem
The cabinet discussed Israel's recent complaint to the UN Security Council against Amal MP Qassem Hashem and other Lebanese.
Hashem said last week that the Jewish State objected to his and local residents' recent dismantling of a fence erected by Israelis near the southern village of Abbasiyeh.
"The cabinet, in turn, reiterated Lebanon's position against Israel's violations," said Mitri.
Egypt
Hariri briefed the cabinet about his visit to Egypt. The Egyptian president Hosni Mubarak assured him (Hariri ) that there will be no Israeli war on Lebanon, adding "Egypt would support Syria and Lebanon in the event of an Israeli attack. "
Iraq, others
Hariri told the cabinet he contacted Iraqi Prime Minister Nuri al-Maliki to request the release of 120 Lebanese truck drivers detained in Iraq. Maliki assured Hariri that he would work on releasing the arrested Lebanese truck drivers. Hariri stressed that the government is committed to following up on this issue with the Iraqi authorities.
About 120 Lebanese drivers of trucks carrying cement from the Lebanese National Cement firm "Al-Sabaa" were arrested in Iraq after a decision to ban the entrance of such vehicles. Reports claimed that bags with the firm's stamp were found at sites hit by bombings in Iraq.
The Cabinet approved the establishment of the National Commission for international humanitarian law, and also approved the establishment of a government hospital in the city of Aley.
The cabinet approved the draft proposal to shorten procedures related to trials costing less than 15 million LL.