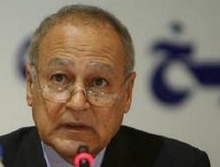 The Israeli ambassador to Egypt has lodged a protest over Foreign Minister Aboul Gheit's description of Israel as "the enemy" during a visit to Beirut.
Egyptian officials say Gheit's words weren't understood correctly. Yitzhak Levanon formally protested to the government Monday in Cairo, Ynetnews.com reported.
Gheit was asked last week during a news conference in Beirut whether his trip to Lebanon was a warning to the government there. He responded his visit wasn't aimed at sending messages from "the enemy to a sister state."
Egyptian officials said Gheit intended to say he couldn't relay messages from Israel to Lebanon because Israel considers Lebanon an enemy state.
Israel and Egypt have had diplomatic relations for 40 years but Gheit said Egypt would support Syria and Lebanon in the event of an Israeli attack. UPI
This error message is only visible to WordPress admins
Error: No connected account.
Please go to the Instagram Feed settings page to connect an account.