UAE calls again on Iran to end "occupation" of its 3 islands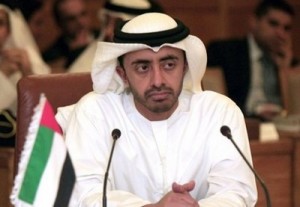 The foreign minister of the United Arab Emirates refused to back down in the face of Iranian anger and repeated Sunday his call for Tehran to end its "occupation" of three islands in the Gulf.
The minister's use of the word last week and his explicit comparison of the islands claimed by the UAE to Arab lands occupied by Israel was called "brazen and impudent" by Tehran, which said Saturday it hoped he had been misquoted.
But Sheikh Abdullah bin Zayed al-Nahayan, on a visit to Palestinian President Mahmoud Abbas in the Israeli-occupied West Bank, again called Iran's hold on Abu Musa and the Greater and Lesser Tunbs an occupation that was hindering the non-Arab, Muslim power's relations with all its Arab neighbors.
"The UAE's position is one of hope that the Iranian side will end this dispute peacefully and calmly," Sheikh Abdullah told Reuters after his meeting with Abbas.
"We hope the Iranian side will look at this dispute and the occupation not only as an obstacle to improving relations between our two countries but also as an obstacle to Iran's relations with Arab states. For the sake of everybody, we hope this issue will be resolved peacefully and as soon as possible."
Arab states broadly back the UAE claim to the islands, which lie close to shipping lanes used for oil and gas export.
Last week, Sheikh Abdullah was quoted by the UAE news agency saying: "Occupation of any Arab land is occupation … Israeli occupation of Golan Heights, southern Lebanon, West Bank or Gaza is called occupation and no Arab land is dearer than another."
Iran's foreign ministry spokesman, quoted by a semi-official news agency Saturday, said he hoped the UAE minister had been misquoted. He added: "The repetition of such statements will ensure the intense reaction of the Iranian people."
The UAE, a U.S. ally, and Iran have strong trade relations but diplomatic ties were strained after Iran installed maritime offices on one of the disputed islands in 2008. Reuters