Hariri seeking consensus in Beirut Municipal election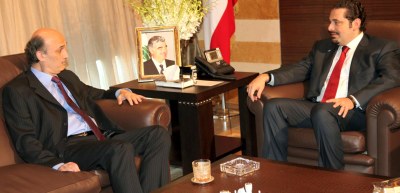 Beirut's Lebanese Forces Coordinator Imad Wakim met with Free Patriotic Movement Coordinator Ziad Abas on Sunday to discuss the municipal elections scheduled to begin May 2 in the Mount Lebanon district, said a statement issued by the LF.
According to the statement, the meeting was positive and both parties will remain in contact over the matter.
FPM wants min 7 members
earlier today , Change and Reform bloc MP Hikmat Dib told OTV on Sunday that "seven or eight members of the Beirut municipal council should represent the Free Patriotic Movement, because the FPM represents 47 percent of the Christians."
Hariri's last attempt
Prime Minister Saad Hariri kicked off efforts to achieve consensus in Beirut over the municipal polls.
On Saturday, Hariri met with Former Minister Fouad Butros in the presence of former Minister Ghattas Khoury and later held separate talks with MP Tamam Salam and Lebanese Forces leader Samir Geagea.
Hariri's move on Saturday was described by Beirut media as a last attempt to take charge of the negotiations himself in order to reach consensus and avoid an electoral battle.
Following his talks with the prime minister on Saturday, Geagea said March 14 was devoted to "arranging Christian seats at Beirut municipality."
"We openly and directly suggested to the FPM to join us in the coalition," he said. However, he criticized the movement for "apparently preferring negotiations to take place through Hezbollah with the prime minister."
"But this time, things won't be that way," Geagea warned.
Dead end
Lebanese Minister of State Michel Pharaon said in an interview with As-Safir newspaper published on Saturday,that negotiations with the Free Patriotic Movement aimed at reaching a consensus on Beirut's municipal elections seem to have hit a dead end.