Lebanon DM: Intelligence Hasn't Spotted Any Scuds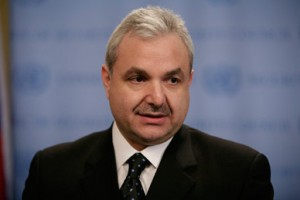 Following his meeting with Speaker Nabih Berri, Defense Minister Elias Murr stressed during a chat with reporters Friday that the Lebanese Army's intelligence has no information about Scud missiles crossing into Lebanon as Israel claims.
"There's no info about this topic whatsoever," Murr said
"We had no previous information and the army's intelligence hasn't revealed anything about this topic," he added.
Murr noted the presence of "satellites to provide the United Nations with imagery of arms smuggling into Lebanon in case of its occurrence," stressing that "the army will commit — in case that turned out to be true – to implementing Resolution 1701 in all its stipulations."
Murr added that what Israel says "doesn't concern us. The Israeli enemy is spreading the propaganda that serves its interest and intimidating our country (Lebanon)."
Israeli President Shimon Peres on April 13 accused Syria of providing Hezbollah with Scud ballistic missiles, prompting Washington to warn such an action on Syria's part will "potentially puts Lebanon at significant risk."
Syria has strongly denied the accusations.