Lebanon's public transport drivers go on strike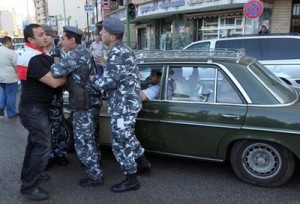 Lebanon's taxi and public bus drivers went on strike Thursday and blocked roads across Lebanon to protest rising petrol prices and condemn the cabinet's neglect of the transportation sector.
The strike was called by the Lebanese unions and syndicates for land transportation.
They issued a statement calling on all public vehicle drivers in Lebanon to halt their work and protest peacefully against "increasing taxes and fees through the weekly rise in gasoline prices with the aim of serving the budget deficit and the public debt."
Drivers halted their work in most regions. The strike was expected to end by Thursday evening.
Meanwhile, drivers blocked the roads that lead to the main entrances of Beirut, prompting the Lebanese army to intervene to open the main roads.
Energy Minister Gebran Bassil attributed the rise in petrol prices to the surge in prices of oil on international markets. DPA
Photo: Lebanese police scuffle with a taxi driver, left, during a strike for taxi and public bus drivers to protest rising petrol prices in Beirut, Lebanon, Thursday, April 22, 2010. (AP Photo/Hussein Malla)