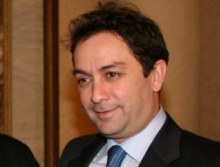 Interior Minister Ziad Baroud held a press conference to brief the media on the upcoming municipal elections. He said:
– We are determined to hold the elections on time and implement the current municipal electoral law. Our duty as an executive power is to implement the law no matter what. I regret that the draft municipal electoral law was not adopted by the parliament. I reiterate that the reforms were not dropped, but unfortunately they will not be applied during the 2010 municipal elections.
-Holding the municipal elections on time provides stability to Lebanon, despite all the Lebanese and regional developments.
– The final touches have been put on the security plan; the electoral process requires a large number of security forces members.
– 14,000 employees will participate in organizing the electoral process and they will undergo short-term training courses.
– 7,507 candidates are running for seats in 313 municipalities in Mount
– The number of voters throughout Lebanon is 3,311,000, and they will vote in 963 municipalities.
– 400,000 IDs were completed in a short time and 57 new municipal councils have been planned since 2004
– 6.6% is the percentage of women candidates running for municipal councils
He concluded his briefing by saying: We hope to receive complaints upon the occurrence of any violations during the electoral process and 1790 is a toll-free hotline number for receiving all complaints
This error message is only visible to WordPress admins
Error: No connected account.
Please go to the Instagram Feed settings page to connect an account.