Kuna: Assad to meet Mubarak in Sharam Al-Sheikh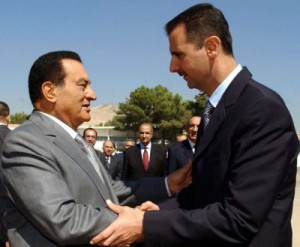 Syrian President Bashar al-Assad will soon meet with his Egyptian counterpart, Mohammad Hosni Mubarak, in Egypt for the first time in over four years, Kuwait News Agency (KUNA) reported on Tuesday.
Assad is expected to arrive in Sharam Al-Sheikh within the coming few hours to congratulate Mubarak on his recovery after undergoing gallbladder surgery in Germany in March, KUNA added.
According to the agency, the two presidents will likely discuss bilateral relations and regional issues of joint interest, particularly the inter-Palestinian reconciliation and the Middle East peace process following the Israeli threats to Syria amid accusations that it is supplying Hezbollah with SCUD missiles.
KUNA added that a high-ranking Egyptian official met with Assad in Damascus to deliver a formal invitation to visit Egypt.