Deal Is Set to Reopen Air Travel in Much of Europe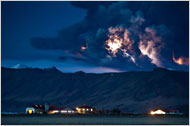 Swaths of the European sky are expected to reopen to commercial flights as early as Tuesday morning, with some small areas set aside as no-fly zones while the authorities monitor an ash cloud spreading from an Icelandic volcano, European officials announced Monday after an emergency meeting to address the travel chaos.
The agreement seemed to signal an easing of the worst peacetime air travel disruption ever, a nearly weeklong halt in flights that stranded hundreds of thousands of passengers, cost airlines hundreds of millions of dollars and raised fresh questions about Europe's ability to respond coherently to a crisis.
Under the agreement, aviation authorities would carve airspace above the continent into three zones — one closest to the volcano where air traffic would be completely restricted, another zone with partial flight restrictions, and a third zone, free of ash, where flights could resume completely.
It was unclear precisely what portions of the continent's airspace would be reopened when the agreement takes effect at 8 a.m. Tuesday Paris time, but the European Union's transport commissioner, Siim Kallas, called the deal "good news for Europe's stranded passengers."
The no-fly zone would cover one-third of the airspace until now designated as contaminated, said Bo Redeborn, the director of network design of Eurocontrol, which coordinates regional air traffic management. Authorities said they would perform test flights and monitor air conditions every six hours.
Authorities are concerned that if an airplane moves through the ash cloud, which contains high levels of silica, a glasslike dust, the engines could seize or stall. But the airlines that sent up test flights on Sunday said they saw no damage to their planes.
The International Air Transport Association, an airline industry group, criticized what it called a "lack of leadership" by European governments faced with an aviation shutdown on an unparalleled continental scale. The disruption has spread far and wide, affecting the transportation of everything from Kenyan roses, usually sent by air to Europe, to British troops and wounded American soldiers being flown out of Iraq and Afghanistan. .
A Pentagon spokesman, Bryan Whitman, said Monday that three medical evacuation flights from the war zone could not land at Ramstein Air Base in Germany and had to be rerouted through Rota Air Base in Spain and then on the United States.
The change meant that the troops could not receive advanced care at the Landstuhl military hospital near Ramstein, as they normally do, and instead had to wait through eight additional hours of flying time to the United States Once here they landed at Andrews Air Force Base outside Washington, D.C., and were taken to Walter Reed Medical Center in Washington.
The delays "have not had a significant impact," Mr. Whitman said, and the military was also using alternative to Ramstein for supplies to Iraq and Afghanistan.
Even before European officials made their announcement, several countries said they would be easing or lifting flight bans as the volcanic eruptions weakened, spewing less ash. Britain said that flights over Scotland would resume at 7 a.m. local time Tuesday, and that restrictions over England and Wales could be eased later in the day. The German carrier Lufthansa said that it had received permission from Germany's civil aviation authority to fly 50 aircraft into Germany Monday carrying around 15,000 stranded passengers from North and South America, Asia and Africa.
Lufthansa has also been allowed to make a "very small number" of flights from Germany to the United States and destinations within Europe starting at 6 p.m. local time Monday, said Amelie Schwierholz, an airline spokeswoman. The planes will have to fly through specific corridors at lower elevations of 10,000 to 23,000 feet, she said.
Italian authorities opened the country's principal northern airports, in Milan and Venice, at 7 a.m., Monday but then closed them again two hours later, citing new and ominous weather reports, according to the ANSA news agency. Vito Riggio, the head of the civil aviation authority, said the airports would stay closed until at least 8 a.m. on Tuesday. But airports in Rome and the south of the country were open.
Air France said on its web site on Monday that it was preparing to resume flights to Paris on Tuesday "in the most efficient fashion," with a full schedule of long-haul flights at both Charles de Gaulle and Orly airports. Overnight flights bound for Paris would begin operating Monday night, though there may be some delays in arrival, the airline said.
Most of Asia's largest carriers continued to cancel their flights into Europe, adding to the financial cost of the chaos.
Airports in the Czech Republic opened at noon local time Monday according to the Czech news agency, and news reports said that Slovakia was allowing flights over the eastern part of the country. Aviation authorities in Hungary announced that they had reopened the country's airspace for aircraft flying at 24,600 feet or higher.
Still, only 8,000 or 9,000 of the European continent's 28,000 scheduled flights operated on Monday, according to Eurocontrol, "We are far enough into this crisis to express our dissatisfaction on how governments have managed it, with no risk assessment, no consultation and no leadership," said Giovanni Bisignani, the director general and chief executive of the International Air Transport Association. "This crisis is costing airlines at least $200 million a day in lost revenues and the European economy has already suffered billions of dollars in lost business."
"This not an acceptable system, particularly when the consequences for safety and the economy are so large," Mr. Bisignani said of the methodology for , which is based on computer models.
Mr. Bisignani expressed hope that the chaos would lead to a new momentum on discussions about a unified air traffic control system in Europe, known as the Single European Sky, which have been going on for 20 years.
"This is really a failure of Europe," he said. While Europe has been able to remove borders on the ground, he added, "we haven't been able to take away the borders in the sky."
Willie Walsh, the chief executive of British Airways, said the region's carriers had approached the European Union and their national governments seeking financial compensation for the airspace closings.
"There is a precedent for this to happen as compensation was paid after the closure of U.S. airspace following the terrorist events of 9/11, and clearly the impact of the current situation is more considerable," Mr. Walsh said in a statement.
British Airways estimated that the disruptions from the volcanic ash cloud were costing the airline from $23 million to $31 million a day in lost passenger and cargo revenue as well as expenses related to supporting stranded passengers. The company stressed, though, that its financial resources were adequate to weather a prolonged closing of British airspace.
Other broader estimates of the economic toll went much higher.
"The Ash Attack has already affected the travel plans of eight million passengers in Europe and around the world," the Center for Asia Pacific Aviation, a consultancy based in Sydney, Australia, said Monday on its Web site. "The total cost for the aviation industry (airlines, airports, suppliers, freight operators, handlers, etc.) could be well over $2 billion."
Several European airlines, the center said, were already considering emergency layoffs.
Prime Minister Gordon Brown said Monday that British authorities would deploy two Royal Navy vessels, including the Ark Royal aircraft carrier, to help bring Britons home.
Britain is particularly isolated because the country is cut off from continental land routes by the English Channel. London's main airport, Heathrow, is one of the busiest hubs in the world. And with Britain in the throes of political fervor before a national election on May 6, the government's handling of the crisis will be closely scrutinized by its opponents for missteps, political analysts said.
Mr. Brown said Britain was looking to Spain, where airports are open, as a potential transit point to get Britons home by ferry, road and rail, but he did not say exactly what part the Navy vessels would play. NYT