Shares crumble as SEC charges Goldman with fraud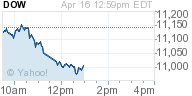 US Bank shares accelerated their declines Friday after the U.S. Securities and Exchange Commission announced fraud charges against Goldman Sachs Group Inc. (GS).
The stocks had already been down slightly, likely on profit-taking, after Bank of America Corp. (BAC) posted better-than-expected results, following a big run-up in bank stocks.
Goldman's shares were recently down 10% at $165.24 after the SEC charged the company and one of its vice presidents with defrauding investors by misstating and omitting key facts about a financial product tied to subprime mortgages.
The SEC said Goldman Sachs structured and marketed a synthetic collateralized debt obligation, or CDO, that hinged on the performance of subprime residential mortgage-backed securities. According to the SEC, Goldman Sachs failed to disclose to investors vital information about the CDO, in particular the role that a major hedge fund played in the portfolio selection process and the fact that the hedge fund had taken a short position against the CDO.
Ratings agencies Moody's Corp. (MCO) and McGraw-Hill Cos. (MHP), which owns Standard & Poor's Ratings Services, also dropped just after 10:30 a.m. EDT when the Goldman news was announced. McGraw-Hill was recently off 3.1% to $35.43 and Moody's fell 6.6% to $27.69. Credit ratings agencies were challenged by the public and forced to defend their ratings during the recession after investors and government officials questioned their independence.
Earlier Friday, Bank of America Corp. (BAC) posted first-quarter results well above analysts' expectations but profit declined from a year earlier. The company's investment banking revenue helped boost its bottom line, but other businesses struggled.
Analysts had said early Friday morning they wouldn't be surprised if some investors chose to sell on the news, as bank stocks have had a strong run. Bank Of America shares, which had been down less than 2% before the announcement about Goldman, were recently down 3.3% to $32.42.
Meanwhile, J.P. Morgan Chase & Co. (JPM) shares, which kicked off bank earnings season on a positive note earlier this week, slid 4.6% to $45.62. Shares of Citigroup Inc. (C), which is set to report results Monday, were recently off 4.2% at $4.61, while Morgan Stanley (MS) fell 5.4% at $29.22 and Wells Fargo & Co. (WFC) dropped 3.7% at $32.27.
Regional banks' shares, which tend to be more volatile than those of the bigger banks, also fell Friday. The regional banks have been hurt during the recession because of their large exposure to local private and commercial real estate.
Regional-bank decliners included Synovus Financial Corp. (SNV), which slid 7.4% to $3.53; KeyCorp (KEY) off 4.8% to $7.95; and SunTrust Banks Inc. (STI) down 5.9% to $28.01. Regions Financial Corp. (RF) was recently down 5.7% to $8.04, and Marshall & Ilsley Corp. (MI) was off 7.6% to $8.20. WSJ