Gemayel: Hezbollah arms behind conflict in Lebanon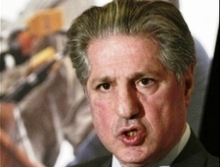 Former Lebanese president and Phalange Party leader Amin Gemayel told Kuwaiti newspaper An-Nahar in an interview published on Thursday that the main reason behind domestic conflict in Lebanon is Hezbollah's arms.
He also said : "Arms not under the state's control is unacceptable".
Gemayel touched on the criticisms against the Internal Security Forces (ISF) for signing the 2007 US-ISF cooperation agreement, saying, "There are political reasons behind attacking the institution, which could be aimed at weakening the country's security forces." Hezbollah spearheaded the criticism and is being supported by its Syrian backed allies.
Gemayel voiced support for Prime Minister Saad Hariri's upcoming visit to Syria saying the trip is aimed at resolving all pending issues and to improve bilateral relations.