Deposed Kyrgyz President Leaves Country and Resigns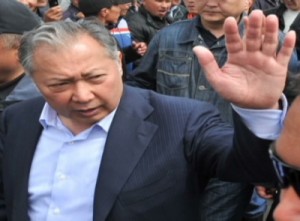 The deposed president of Kyrgyzstan, Kurmanbek Bakiev, has flown out of the country, ending a week-long standoff with the interim government. The Associated Press is reporting that Mr. Bakiev has formally resigned as president.
A week after fleeing the capital amid violent anti-government protests, President Bakiev boarded a military aircraft at Jalal-Abad in the southern part of the country and left Kyrgyzstan.
The flight landed in Taraz in neighboring Kazakhstan.
A representative of the interim government's press office, Melis Erdjigitov, confirmed to VOA News that Mr. Bakiev had departed the country, but would not comment on his destination.
Kazakhstan currently holds the presidency of the Organization for Security and Co-operation in Europe, which had been involved in negotiations to resolve the standoff between the provisional leadership and the ousted president.
The interim government replaced Bakiev after security forces fired on demonstrators angry with his administration. More than 80 people died and hundreds more were wounded.
The president, in power for five years, lost support of the public amid accusations he gave family members influential positions and used their posts to enrich themselves. There were also complaints from civil society about of violations of human rights and muzzling the media.
The news of the president's departure came just hours after U.S. Assistant Secretary of State Robert Blake completed two days of meetings with Kyrgyzstan's provisional government.
Ambassador Blake says the country now has a "unique and historic opportunity to create a democracy that could be a model for Central Asia and the wider region." For that to happen, the self-installed leadership, he adds, needs to include input from the public for the promised drafting of a new constitution leading to national elections within six months.
"I encouraged them to be fully transparent in everything that they are doing to be in very close touch, in consultation, with members of Kyrgyz civil society who, in turn, represent the people of Kyrgyzstan," he said.
The U.S. envoy says technical support and other assistance for Kyrgyzstan to restore democracy was the focus of his visit, rather than the controversial Manas air base. The facility, just outside the capital Bishkek, is used to move American troops and supplies in and out of Afghanistan.
The U.S. envoy told reporters the United States is willing to review the transit center's lucrative fuel contracts, which are controlled by members of the family of the ousted president.
The interim government has pledged to honor the remainder of the facility's annual lease, which expires in July.VOA