Public debt in Lebanon rising to $55 billion in 2010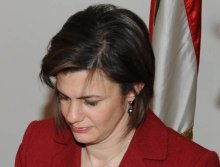 Lebanon's government proposes a 14 percent increase in spending this year and expects public debt to rise to $55 billion, according to a draft budget unveiled on Thursday, adding further fiscal pressure on one of the world's most indebted economies.
Finance Minister Raya al-Hassan said the draft budget allocated $4.3 billion to go towards debt servicing, adding that the country's projected deficit in 2010 is set to increase to $3.7 billion, or 10.7 percent of GDP, from $3.25 billion, or 8.6 percent of GDP, in 2009.
Public debt in 2009 stood at $51 billion. However, Hassan said the increase to $55 billion this year would barely change the debt-to-GDP-ratio, which stood at 147.98 percent of GDP in 2009.
"We expect growth in the economy and it is growing more than the indebtedness. We are determined and this is our goal, which we will maintain … to keep the debt-to-GDP ratio at 147.47 percent," she said.
The budget allows for a 24 percent increase in social spending and healthcare after years of belt-tightening and a 27 percent rise in spending on the power sector.
"This is an ambitious budget through which we are trying to solve the structural problems in the economy and enhance the service for the citizens and not to impose (burdening) taxes," Hassan said. The government also wants to adopt legislation to allow budget financing through private sector partnerships in projects, she said.
Nassib Ghobril, head of research and analysis at Byblos Bank group, however, said the high expenditure and deficit in the budget did not send a positive signal to investors.
"The deficit level is shocking. It's not a reform-oriented budget, this is the highest fiscal deficit on record," he said.
"The deficit will not go away and decline without reforms. They have been very good at managing the public debt but not at reducing it."
STRONG GROWTH
Lebanon's economy has largely shrugged off the effects of the global financial crisis and economic downturn, growing 9 percent last year. Hassan has said growth could be as high as 8 percent this year if structural reforms and long-stalled privatisation plans are implemented.
Moody's Investors Service this week upgraded Lebanon's sovereign ratings one notch to B1 from B2 citing sustained improvement in external liquidity, the banking system's strengthened ability to finance deficit and the formation of a new government.
Privatisation is a key bone of contention in Lebanon with government plans to liberalise the telecoms and electricity sectors long opposed by powerful leaders.
"Everybody has been saying that all this positive growth and performance does not replace the need to reform as soon as possible," said Ghobril.
"Liberalising the telecoms sector, restructuring the electricity sector, reforming the pension sector, privatising the mobile licences," he said.
Hassan said she hoped the cabinet would approve the draft soon so that it can be sent to parliament to pass it. Reuters