Jewish settlers suspected in West Bank mosque attack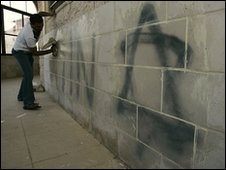 Israeli settlers in the West Bank are suspected to have vandalised a mosque by spraying slogans on its walls, Palestinian officials say.
Nearby olive trees were uprooted and cars burned in the attack that occurred in the early hours of Wednesday morning, according to reports.
The Israeli Defence Forces confirmed the incident occurred and said it was being investigated.
The attack comes months after another mosque was hit by an arson attack.
The mosque, in the village of Huwara near Nablus, had Jewish stars of David sprayed alongside the name of the prophet Muhammad, written in Hebrew.
Two cars outside the mosque were burned, and more than 300 olive trees uprooted, Israeli media reported.
"The Israeli Defence Force takes the matter of harming or vandalising holy sites very seriously", the military said in a statement.
An investigation had been launched "and those responsible should be brought to justice", the statement said.
'Price tag'
The village is near the Jewish settlement of Yitzhar.
Settlers from there are believed to be responsible for an arson attack on a mosque in the village of Yasuf in December 2009.
A Rabbi was arrested but then released after security services failed to bring any evidence against him to court.
The Israeli Prime Minister Benjamin Netanyahu has ordered a 10-month lull in permits for new settlement homes in the West Bank, not including East Jerusalem.
The order followed US and Palestinian calls for a total freeze in settlement building.
Palestinian officials have refused to rejoin peace talks until a total freeze is imposed.
Some hard-line settlers say they will attack Palestinians in retaliation for any Israeli government measure they see as threatening Jewish settlements.
It is a policy they call the "price tag".
All Jewish settlements in the West Bank, including East Jerusalem, are illegal under international law, though Israel disputes this. BBC