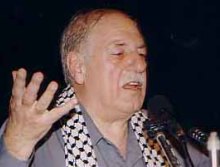 The Popular Front for the Liberation of Palestine-General Command (PFLP-GC) on Sunday turned in the Lebanese nationals and Palestinian refugees it had detained last week to army intelligence, LBCI television has reported.
The four individuals had been arrested following the clashes in the Bekaa town of Kfar Zabad between members of the Syrian backed PFLP-GC that had expanded to the party's Qosaya military bases on Thursday.
According to LBCI, the men were identified as Ali al-Araji, Khaled Ramez al-Araji, Wael Ahmad Mohammad and Mahmoud Mohammad Mohammad.
Following the incident on Thursday, PFLP-GC's representative in Lebanon, Anwar Raja, had said his party will hand over the detainees after it concludes its own preliminary investigation.