Amal's Khalil: Opposition remained united despite differences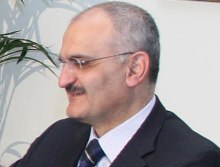 MP Ali Hassan Khalil , who is Speaker Nabih Berri's political adviser, has reportedly told al Akhbar newspaper that the opposition remained united despite differences in minor details.
"Mistaken are those who think that the national opposition's ties were broken," He told al-Akhbar in remarks published Saturday. "If there are some differences over details, this doesn't mean that we are not in the same political line on major issues from the resistance all the way to the future of the country."
MP Gebran Bassil , son-in-law of Free Patriotic Movement leader MP Michel Aoun has recently blamed the opposition members for allegedly not standing by the FPM on several issues, including the reform battle.
Khalil said that during a meeting held on Thursday between him and Hezbollah secretary general's political assistant Hussein Khalil and Minister Bassil, "an agreement was reached on the need to find a coordination mechanism inside cabinet."
Khalil stressed that the municipal elections won't be an issue of misunderstanding between Berri's Amal movement and the Free Patriotic Movement.