Jumblatt, Nasrallah met to assess Damascus visit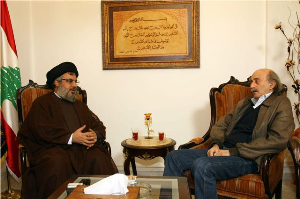 According to a statement issued by Hezbollah on Friday , Progressive Socialist Party leader MP Walid Jumblatt met with its secretary general, Sayyed Hassan Nasrallah, to assess his March 31 meeting with Syrian President Bashar al-Assad in Damascus.
According to the statement the two men agreed on supporting the Resistance so as to confront Israel's recurrent threats. It added that Nasrallah and Jumblatt also talked about Lebanon's economic and social issues and both "expressed common interest to support the Lebanese citizen rights to decent living."
"They also agreed on enhancing the coordination efforts between Hezbollah and the PSP , in order to consolidate coexistence and national unity, " the statement said.
Nasrallah, along with other allies of Syria was instrumental in paving the way for Jumblatt's visit to Damascus.