Murr: Ouyoun Orgosh incident should not be politicized.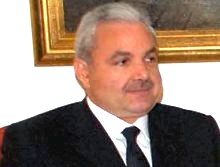 Following his meeting with Lebanon's Maronite Patriarch Nasrallah Boutros Sfeir on Tuesday, Defense Minister Elias al-Murr said that the recent Ouyoun Orgosh incident is being handled by legal authorities and should not be politicized.
His comment comes after several figures from the March 8 alliance pointed their finger at the Lebanese Forces, when Lebanese authorities on Saturday found drugs and weapons in Ouyoun Orgosh, which is believed to be an LF stronghold.
"Apparently, there is no political framework nor any specific party behind [the incident]," said Murr.
Earlier today L F leader Samir Geagea admitted that "most Ouyoun Orghosh residents are LF supporters but said " the allegations in the media reports are not based on any concrete evidence, " adding that he is waiting for "the Judiciary to say its final word on the issue."
Geagea stressed that "there is campaign being launched against the LF from behind the border."
"Those who are waging this campaign are agents who haven't been satiated by their treason throughout the past 10 years," Geagea added.