Israeli Arab jailed for spying on Gen Ashkenazi at gym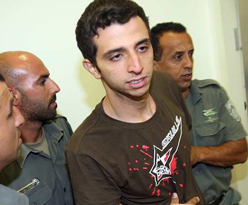 An Israeli Arab has been jailed for almost six years for spying on Israel's army chief at a gym where they both worked out.
Rawi Fuad Sultani, 23, passed information about Lt Gen Gabi Ashkenazi to the Lebanese militant group Hezbollah, according to a plea deal.
The indictment says Sultani was part of a plot to assassinate Gen Ashkenazi.
Sultani met twice with Hezbollah agents after telling the organization he and Gen Ashkenazi used the same gym.
The planned assassination was in retaliation for the killing of Hezbollah leader Imad Mughniyeh, blown up in an Israeli car bomb in 2008.
Security
Sultani went to a camp in Morocco later that year where he met a Hezbollah operative and told him about his contact with Lt Gen Ashkenazi.
He also flew to Poland to meet a second operative to whom he gave details of the layout of the health club and Gen Ashkenazi's security arrangements.
The location of the gym was not specified in media reports of the court papers.
Israel fought a war with Lebanon in 2006 in which 1,200 Lebanese and more than 160 Israeli soldiers were killed.
Last year Hezbollah leader Hassan Nasrallah said the organization would kill any Israeli spies it found in Lebanon.BBC