Sfeir urges the Lebanese to unite around the president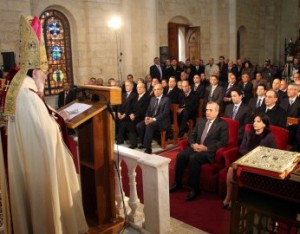 Maronite Patriarch Nasrallah Boutros Sfeir called Friday on the occasion of Easter for all Lebanese "to support their country, their president and their officials" as well as to overcome deep-rooted hatred for each other.
Sfeir added that high-ranking Lebanese figures are being criticized and marginalized, saying that this has never happened before . He was referring to the recent criticism launched against President Michel Suleiman by former minister Wiam Wahab.
He also touched on the security situation in the country, saying most Lebanese citizens are suffering from the security breaches.
"Citizens are complaining about the security situation as laws and regulations are not being respected and this is due to a split in opinion at the state level," he said.
Sfeir called on the Lebanese to "come together and unite around their nation and their President."