Israeli court frees senior Fatah official on bail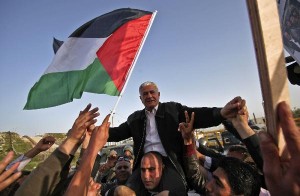 Israel on Thursday released a senior Fatah official and 11 more Palestinians on bail five days after arresting them for participating in a demonstration in the West Bank, a lawyer said.
Tens of officials from the Palestinian President Mahmoud Abbas' s party and supporters waited Abbas Zaki, a member of Fatah central committee, after he arrived in the city of Ramallah and chanted slogans supporting the popular struggle against the construction of Jewish settlements in the West Bank, a Xinhua photographer said.
Zaki was arrested on Sunday along with 10 people who tried to pass through an Israeli army checkpoint between Jerusalem and the holy city of Bethlehem.
The court on Thursday freed them after an Arab member of the Israeli Knesset, Ahmad Al-Tibi, paid 15,000 Shekel (About 4,000 U. S. dollar) without citing conditions, the lawyer, Ismail Al-Tawil, told Xinhua.
Zaki, in a press conference after his release, said he doesn't recognize the legitimacy of the Israeli military court. He also called for stepping up the popular resistance that Fatah has officially backed recently due to the deadlock in Israeli- Palestinian negotiations and the continuation of settlement activities in the occupied territories.
Photo: Supporters carry senior Fatah leader Abbas Zaki on their shoulders upon his release from Ofer prison near the West Bank city of Ramallah on April 1, 2010. An Israeli military judge on Thursday ordered the release of 10 Palestinians, including Zaki, a senior Fatah official, detained during a protest march through a West Bank checkpoint early this week. Zaki was the representative of the Palestinian authorities in Lebanon. Xinhua