Kerry: Arms flow to Hezbollah via Syria should stop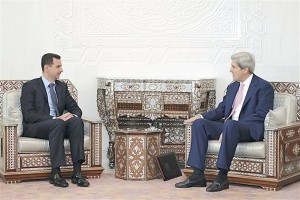 U.S. Senator John Kerry said on Thursday during a visit to Damascus that Syria is committed to engaging in peace making and is essential to the Mideast process.
The Democratic senator, who is the chairman of the Senate Foreign Relations Committee, told reporters after a three-hour meeting with President Bashar Assad that Washington is also concerned about the flow of weapons to Lebanon's militant Hezbollah group through Syrian territories.
"That is something that must stop in order to promote regional stability and security," Kerry said about the weapons.
Washington has reached out to Syria in recent months by nominating the first U.S. ambassador to Damascus since 2005 and sending top diplomats to meet with Assad. Washington is hoping to draw Syria away from Iran and the militant groups Hezbollah and Hamas.
Syria is a strong supporter of militant groups such as the Iranian-backed Hezbollah and the Palestinian Hamas, whose exiled leadership is based in Damascus.
"Syria is an essential player in bringing peace and stability to the region," Kerry said.
Turkey mediated several rounds of indirect negotiations between Syria and Israel in 2008, but the discussions made no significant headway. Direct talks between the Midesat enemies broke down in 2000.
The Syrian news agency said that Kerry and Assad stressed the need of continuing "constructive dialogue" between Syria and United States based on "mutual respect and common interests to reach positive solutions for issues of common interest" the agency said.
Kerry said Washington and Syria "have a very deep interest, a mutual interest" in having a very frank exchange on any differences if they exist.
Kerry who said he has long advocated American engagement with Syria and "I am very committed to working on a continued effort to achieve progress in our bilateral relationship."
President George W. Bush's administration withdrew a full-time ambassador from Syria in 2005 after the assassination of former Lebanese Prime Minister Rafik Hariri. Hariri's supporters blamed on Syria but Damascus denied involvement.
Kerry's visit to Syria is the latest in a series of American officials to make the trip, as Washington pushes for the country's cooperation in Middle East peace efforts and the standoff over Iran's nuclear program.AP