6 World powers agree to pursue new Iran sanctions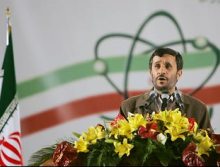 U.S. officials say five permanent members of the U.N. Security Council and Germany have agreed to begin drawing up new sanctions on Iran over its nuclear program, after China dropped its opposition.
The officials said Wednesday, the United States, Britain, France, Russia, and Germany had reached agreement with China during a conference call.
Speaking at the U.N., U.S. Secretary of State Hillary Clinton said the group of six world powers "continues to be unified."
She said there will be a great deal of further consultation not only among the six, but also among other members of the Security Council and other member nations in coming weeks.
The agreement came as Iran's top nuclear negotiator Saeed Jalili travels to China Thursday to discuss Tehran's nuclear activities with officials in Beijing.
The White House said earlier it was confident Washington would be able to work with China to put "meaningful pressure" on Iran regarding its nuclear program.
White House spokesman Bill Burton said China knows it is not in its interest to have a nuclear arms race in the Middle East.
World powers fear Tehran is developing its nuclear program to build weapons, but Iran insists its nuclear program is peaceful.