Kerry meets Lebanese PM & President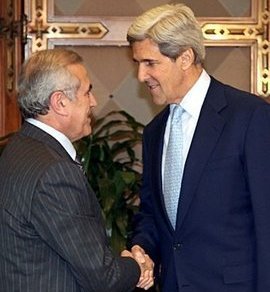 US Senator and former presidential candidate John Kerry met with President Suleiman at the Baabda palace.
Following the meeting the Chairman of US Senate Foreign Relations Committee told reporters Washington is committed to supporting Lebanon's sovereignty, independence and its democratic cabinet.
Kerry added that he listened to the president's thoughts on their two countries' relationship and the challenges facing the Arab-Israeli peace process.
US-Syrian relations could progress, Kerry said, adding that this would help stabilize the region.
Suleiman, in turn, called on the US to pressure Israel to achieve peace, adding that he thanked Washington for supporting Lebanon.
Kerry , Hariri meeting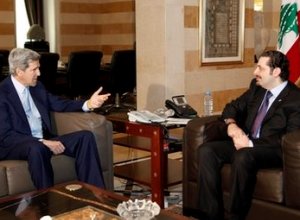 Earlier today Kerry met with the Lebanese Prime Minister Saad Hariri at the Grand Serail.
Hariri's media office issued a statement on Wednesday confirming the that the PM met with Kerry.
Kerry has reportedly praised Lebanon's political and economic progress in the last few years, the statement added.
"We expect the US to keep on financially supporting Lebanon," Kerry said, noting that his country donated approximately $1-billion to Lebanon since 2006.
"We are looking forward to working with the Lebanese cabinet to build more partnerships linked to education, peace, stability and the implementation of laws," the US senator also said.
Kerry also voiced his country's reassurance that Washington would not take any decisions at the expense of Lebanon's freedom, independence and democracy, the statement added.