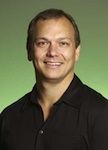 Tony Fadell, known to insiders as the grandfather of the iPod and a former senior vice president of Apple, has formally ended his nine-year tenure with the company.
According to The New York Times, Fadell completed his gradual exit from Apple on Monday, relinquishing his role as a special adviser to company co-founder Steve Jobs. Fadell reportedly said he will advise company and pursue private investments with a focus on green technology.
"My primary focus will be helping the environment by working with consumer green-tech companies," he said. "I'm determined to tell my kids and grandkids amazing stories beyond my iPod and iPhone ones."
In 2008, Fadell stepped down as senior vice president of Apple's iPod division. However, he remained on the company's payroll in his position as an advisor to Jobs.
Fadell joined Apple as the first member of its iPod hardware engineering team in 2001 and was promoted to vice president of iPod engineering in 2004. He became senior vice president of the iPod division in April 2006, taking the position formerly held by his ex-boss, Jon Rubinstein, who now serves as CEO of competitor Palm.
Though Jobs gets the lion's share of credit for innovation at Apple, Fadell played a key role in the company's resurgence. He first envisioned a hard-drive-based digital music player in the 1990s, created a company called Fuse, which aimed to produce a new array of consumer electronics devices for the masses. Fadell brought the idea to Seattle-based Real Networks, where he reportedly clashed with Real's chief executive, Rob Glaser, and left after six weeks.
Mr. Fadell then approached Apple in 2001, and history was made.
He presided over the iPod boom and was also instrumental in the development of the first iPhone. He also oversaw smaller products during his tenure at the company, including the iSight.
Fadell has been credited with numerous patent applications issued by Apple. Most recently, his name was included on inventions for an iPhone audio text message and walkie-talkie feature, as well as a touchscreen proximity sensor.
Sources: Apple Insider & New York Times
This error message is only visible to WordPress admins
Error: No connected account.
Please go to the Instagram Feed settings page to connect an account.