Germany presses Turkey on Cyprus, Iran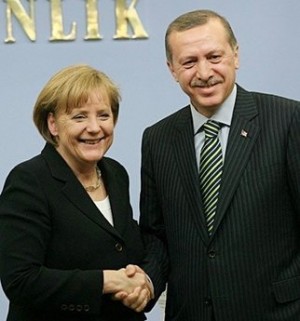 Visiting German Chancellor Angela Merkel on Monday urged Turkey to open its ports and airports to Cyprus to facilitate accession talks with the European Union (EU), while calling on the NATO member country to take the side of the West in imposing sanctions on Iran.
A solution of the Cyprus issue was key for further progress in Turkey's EU entry bid and Turkey must carry out its promises under the Ankara protocol, a 2005 agreement to open Turkey's ports and airports to Greek Cypriot traffic, Merkel told a press conference here.
Having long advocated a "privileged partnership" instead of full membership for Turkey, Merkel on Monday reiterated Germany's support for an open-ended negotiation process between the EU and Turkey.
The EU launched accession talks with Turkey in October 2005 but has only opened 12 chapters, or negotiating areas, out of 35 that are required so far.
A major stumbling block was the issue of Cyprus, a Mediterranean island divided since 1974 when Turkey militarily intervened and occupied the north of the island following a coup by a group of Greek officers.
At Monday's press conference, Turkish Prime Minister Recep Tayyip Erdogan again underscored Turkey would not veer from its final goal of full membership in the EU.
He reaffirmed that Turkey does not favor sanctions on Iran, rejecting Merkel's appeal for stance in union with the United States and Europe.
Merkel told reporters that Germany will back sanctions unless Iran makes its controversial nuclear programs more transparent.
"We would be happy if Turkey votes together with the United States and the EU on the Iran issue in April," she said, referring to the International Nuclear Security Summit to be held in Washington next month.
Erdogan said that earlier rounds of sanctions against Iran had failed to work, noting Iran has long-time friendship with Turkey and is Turkey's second largest energy partner after Russia.
"Imposing sanctions is not a healthy way out … the best solution is diplomacy," he told the press conference.
The United States and other western countries have been pushing for a fourth round of sanctions to restrict Iran's nuclear efforts, which they say are aimed at developing nuclear weapons. Iran has insisted that its nuclear programs are peaceful.
Merkel arrived in Turkey on Monday for a two-day visit.