Syria, Libya pressure Palestinians to quit talks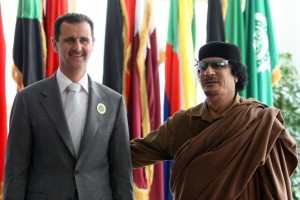 Delegates to an Arab leadership summit say Syria and Libya are teaming up to pressure the Palestinian leader to quit peace talks with Israel.
The delegates say Syria's President has urged Mahmoud Abbas to abandon a stalled U.S.-backed peace strategy and resume armed resistance to Israel.
They say summit host Moammar Gadhafi of Libya has also warned that his nation will withdraw support for an Arab peace initiative calling for exchanging land for peace with Israel.
The two delegates spoke on condition of anonymity because of the sensitivity of the issue.
Despite the calls, summit leaders are still expected to renew the support of Arab nations for peace talks with Israel. AP