Al-Maliki, Allawi vie for right to form next Iraqi government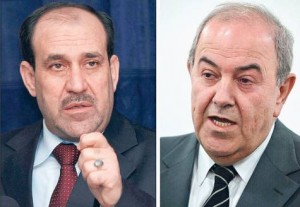 Iraq's main political groupings, feuding over the results of the country's elections, sought to broker alliances in a bid to form the biggest bloc of seats in parliament and earn the right to name the next prime minister.
Former Prime Minister Ayad Allawi, whose secular alliance won a small majority in parliamentary elections on March 7, said he initiated talks yesterday to form a coalition and vowed to reach out to political allies and foes alike. His rival, Prime Minister Nuri Al-Maliki, was also engaged in talks after declaring that his second-placed Shiite Muslim group won't accept the results and might even challenge them in court.
"How they negotiate through the coming months is a test of whether they can put the Iraqi state interests above their own partisan ambitions," said Julien Barnes-Dacey, a Middle East analyst at the London-based Control Risks Group. "It is a situation of great and potentially troubling uncertainty."
Neither group came close to winning a majority of the 325 seats needed to form a government, forcing coalition talks. Those negotiations may drag on for months, hampering the Obama administration as it prepares to pull combat troops out of the country by the end of August. Al-Qaeda has threatened a new campaign of attacks against all of the parties.
Allawi's Iraqiya alliance won 91 seats in the election, according to the final tally of results released by the Independent High Electoral Commission on March 26. Al-Maliki's State of Law alliance got 89 seats.
Iraqiya will strive to form a government with "all political forces and all those who want to build Iraq," Allawi said in a statement.
Disputes
The ruling coalition that emerges must resolve long- standing disputes over federalism versus centralism, the sharing of oil revenue among regions and whether to include the oil-rich city of Kirkuk in the Kurdish autonomous region in the north.
Once the results are certified, President Jalal Talabani will have 15 days to call for lawmakers to convene and elect a speaker and two deputy speakers.
A new president will then be elected and will invite the leader of the largest bloc to form a government. The prime- minister designate has 30 days to do so. If they fail, then another prime-minister designate must be appointed and given the chance to form a ruling coalition.
The Supreme Court said in a ruling made public on March 26 that a coalition formed after the election could assert the right to form a government as the largest bloc.
Iran
Iraq's constitution doesn't make this point clear and al- Maliki requested the clarification, "somewhat suspiciously," the day before results were due to be announced, said Marina Ottaway and Daniel Kaysi, analysts at the Carnegie Endowment for International Peace, in an article posted on the Web site of the Washington-based policy institute.
"Usually, the party which wins the elections has the first chance to form a government but al-Maliki is doing everything to block his rival's chance to come to power," said Mustafa Alani, an analyst from the Dubai-based Gulf Research Centre.
Iran's Shiite rulers are backing efforts by al-Maliki to form an alliance with another Shiite group, the Iraqi National Alliance, which came in third with 70 seats, and an alliance of Kurdish parties that placed fourth with 43 seats, said Alani.
The U.S. prefers Allawi because he is a secular Iraqi nationalist who would resist Iranian influence, Alani said.
Allawi attracted support from the Sunni Muslim minority, who dominated the nation under former Iraqi leader Saddam Hussein and formed the backbone of an insurgency against U.S.- led forces after the 2003 invasion that brought Shiites to power.
Recount
Al-Maliki will serve as a caretaker premier until a new government is formed. It took almost six months to cobble together a ruling coalition after the 2005 legislative elections.
Speaking at a news conference aired live after the results were announced, al-Maliki said the tally wasn't "final" and that he wouldn't accept it. He alleged that some of those who won seats should have been barred from the vote because of ties to the banned Baathist regime of Hussein. Al-Maliki's supporters have insisted on a manual recount, a demand rejected by the electoral authorities.
The U.S. said the elections had been conducted fairly. "There is no evidence of widespread or serious fraud," Philip J. Crowley, a spokesman for the U.S. State Department, told reporters in Washington. "This marks a significant milestone in the ongoing democratic development of Iraq." BW