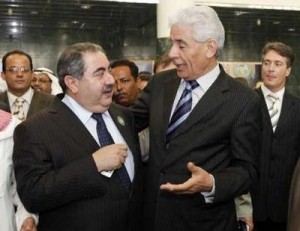 Iraqi Foreign Minister Hoshyar Zebari said he will attend the summit of Arab leaders in Libya after Baghdad and Tripoli resolved a dispute that had him ready to pack and go home.
"There is no more question of the Iraqi delegation pulling out (of the summit)," Zebari told reporters in the Mediterranean city of Sirte where he will represent his country at a summit of Arab leaders on Saturday and Sunday.
"We will contribute, we will participate and we will work for the success of this summit," he added.
Maliki ordered Zebari to quit the summit
Earlier on Thursday Iraqi Prime Minister Nuri al-Maliki ordered Zebari to quit the summit in protest at a meeting this week between Libyan leader Moamer Gaddafi and Iraqi opposition figures.
"Maliki instructed Zebari to leave by the end of the day Thursday in protest at a meeting granted by Gaddafi to a delegation of Iraqi opposition figures," the diplomat said.
He ordered that the Iraqi delegation to the Arab summit be scaled back, leaving behind in Sirte Iraq's permanent representative to the Arab League.
Arab League chief Amr Mussa and several foreign ministers preparing for the weekend summit intervened and persuaded Zebari to stay on in Libya for the summit.
Zebari also said "we heard clarifications from the Libyan side" and that later he spoke to the Maliki and Iraqi President Jalal Talabani and was instructed to continue participating in the summit.
He declined to elaborate on the spat between Tripoli and Baghdad but said at the end of a day of discussions behind closed doors with his Arab counterparts "there were some negative positions concerning political developments in Iraq."
Libya's official JANA news agency had reported that Gaddafi received a high-ranking delegation of Iraqi opposition leaders on Sunday, including former members of the outlawed Baath party of now executed dictator Saddam Hussein.
The Iraqi delegation included former oil minister Issam Shalabi as well as ex-Baathist Salah Omar al-Ali, the agency said.
Iraq to host next summit
Iraq is due to host next year's Arab summit, after forgoing its turn to hold this year's amid political tensions and security concerns.
"It is Iraq's right to host the next summit next year," Zebari told reporters.
"The security situation is improving and we hope that by next year we will be able to host the summit."
Arab delegates has said earlier that several foreign ministers had expressed reservations over Iraq's wish to host the summit on its national soil, citing the security situation and the presence of US and other foreign troops there.
Syrian Foreign Minister Walid Muallem told a morning session that his country would not attend a summit in Iraq as long as US troops remained deployed in the country.
In order to defuse the tensions, Arab League chief Amr Mussa suggested that Iraq could hold the summit at Arab League headquarters in Cairo if the situation in Iraq is a cause of concern.
Many Arab leaders will skip the summit
Lebanon's President Michel Suleiman will not attend, but will send a lower-level delegate instead.
Lebanon had earlier returned Libya's invitation because the invitation arrived at the Lebanese Embassy in Damascus .
The embassy cited "administrative reasons," saying it was not authorized to receive or respond to the invitation, but this diplomatic language obscured a longstanding dispute between Lebanon and Libya.
Relations between the two countries have not recovered since Imam Moussa al Sadr, a high-ranking Shiite Lebanese cleric went missing in Tripoli in 1978. Libya has denied involvement, and closed its embassy in Beirut to protest the Lebanese accusations.
Beirut in 2008 issued an arrest warrant for Gaddafi. And so it is perhaps little wonder that Gaddafi, by sending the invitation to the Lebanese Embassy in Damascus, might wish to snub Lebanon by refusing to recognize the government in Beirut.
The list of further absentees is said to include Saudi Arabia's King Abdullah, who has not yet confirmed his attendance, as well as Oman's Sultan Qabous Ibn Said, and Yemeni President Ali Abdallah Salih.
Egyptian Prime Minister Ahmed Nazif is expected to attend the summit on the behalf of President Hosny Mubarak, who is recovering from surgery in Germany.
Sheikh Saud bin Rashid Al Mualla, UAE Supreme Council Member and Ruler of Umm Al Qaiwain will represent UAE instead of UAE president Sheikh Khalifa bin Zayed Al Nahyan
Picture: Iraqi Foreign Minister Hoshyar Zebari talks with Libyan Foreign Minister Moussa Koussa