Hussein: STL will not threaten Lebanon's security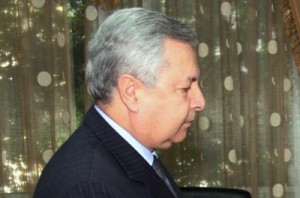 Minister of State Adnan as-Sayyed Hussein told OTV on Wednesday that the investigations of Special Tribunal for Lebanon (STL) will not threaten Lebanon's security.
According to Sayyed Hussein, Lebanese-Syrian relations should be normalized and the STL should be able to conduct its work smoothly.
President Michel Suleiman's visit to Syria is possible at any time, he added.
In a related development Hezbollah MP Ali Fayyad told New TV on Wednesday that Hezbollah is not concerned with reports that the Special Tribunal for Lebanon (STL) summoned its members for interrogation over the 2005 assassination of former Prime Minister Rafik Hariri.
"Hezbollah will announce its position [on the matter] when the time is right. Hezbollah only fears the politicization of the reports," Fayyad said.
Last week Wiam Wahab a staunch ally of Syria warned:
"A problem could take place in the country because the investigating panel will create strife," Wahab told New TV on Saturday. He was referring to the summoning of Hezbollah members by the STL investigation team.
The former minister also advised PM Saad Hariri to "avoid the trap of the international tribunal."
In May 2009 the German magazine Der Spiegel revealed that Hezbollah is behind the assassination of Lebanon's former PM Rafik Hariri.
Sayyed Hussein commented on the Arab League Summit in Libya next weekend, saying Lebanon will participate in the meeting but be represented by a low-ranking delegate.
He also said he would not respond to Wahab's criticism of Suleiman, but he added Wahab should not address the president in such a manner.
He touched on the June municipal elections, saying Muslims and Christians should take turns in holding the position of Beirut's head of municipality.