By Grace Halabi
Lebanese American George Haddad endured a treacherous trip to the Earth's southernmost continent, ran a 26 mile marathon, and raised the flag of Lebanon at the end.
"If Antarctica were music, it would be Mozart. Art, and it would be Michelangelo. Literature, and it would be Shakespeare. And yet it is something even greater; the only place on earth that is still as it should be. May we never tame it." Andrew Denton
Indeed, there is unsurpassable beauty in that which is not tainted or tamed. From majestic icebergs to exotic wildlife, friendly penguins and breathtaking sunsets, Antarctica stands unyielding, just as Lebanon's Cedars. Many have traveled to the ever-stunning white continent and some didn't live to describe their adventures. It is there that our own, George F. Haddad, stood humbly and raised the flag of Lebanon upon completion of the 26.2 mile marathon. The challenges of his trip, to include a badly bruised back due to a slip and fall on the steps of the ship's deck "Orlova"; several detours due to rough seas; and a muddy, icy treacherous course, all of which did not hinder him from running the race two days after.
George said: "I thought of GiGi, the little girl with NF (Neurofibromatosis) and her daily struggles. I thought of the loved ones that I left behind and I thought of Lebanon. All those thoughts kept me going. He added, "Nothing could equal the gratification that consumed me as I struggled to the finish line."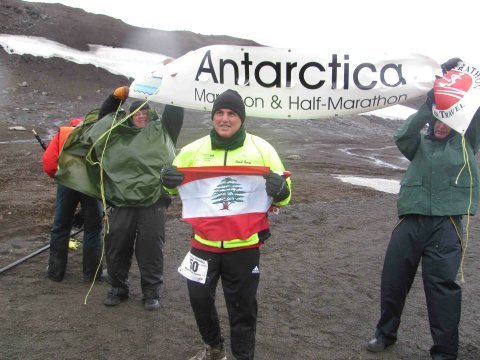 And there he was, on March 7th, 2010, in near -1 degree C (30 degree F) weather, surrounded by a captivating panorama and a backdrop of smiling penguins that stood still as he proudly embraced our flag.
Truthfully, I am not certain that I would have survived The Drake Passage known as the roughest ocean in the world. This passage that connects the Pacific and the Atlantic is also known as the Drake Shake due to its frequent harsh conditions. The Aerospace Senior NASA Engineer, who has supported the Integration and launches of many of NASA's scientific and planetary missions, concedes that his return trip was the most exigent adventure of his life. Indescribably rough waters with ominous swells exceeding 21 feet; he wondered if he would make the trip back home.
As I write this, it occurs to me that many would find this adventure quite extreme. Frankly, a few thought it indeed insane. Yet, one must ask, what price would someone pay to save a life? Would you risk all, would you withstand freezing temperatures, menacing waves, and a trip to the end of the word? Ask George, for he will tell you: "I will do it all over again."
Acts of kindness are worth the cost. Khalil Gibran could not have said it better: "You give but little when you give of your possessions. It is when you give of yourself that you truly give."
Also read: George Haddad: Running for Life
This error message is only visible to WordPress admins
Error: No connected account.
Please go to the Instagram Feed settings page to connect an account.