Lebanon DM opposes integration Hezbollah arms with LAF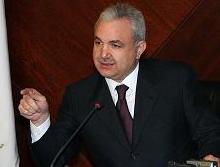 Lebanon's Defense Minister Elias al-Murr told Al-Manar television on Monday that he does not support integrating the arms of the Resistance within the Lebanese Armed Forces (LAF).
"There are some [Lebanese] annoyed by [the existence of] Hezbollah's arms, and I could be one of them," he said, adding, "However, this does not mean we should offer Israel a favor [and disarm Hezbollah]."
Murr said that his priority is to successfully defend Lebanese territory.
The defense minister also said that it is illogical to discuss the issue of resistance arms of the Lebanese parties before dealing with the Palestinian armed factions in Lebanon.
Murr added that is not in his interests as the defense minister for arms to belong to parties other than the Lebanese army. However, he said that Hezbollah's weapons deter Israel.
As long as I am Lebanon's defense minister, I will work for the country's stability, Murr also said.
Murr , who is one of the ministers allocated to the president may be reflecting the thinking of the president , according to local observers