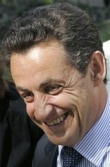 French President Nicolas Sarkozy on Monday announced plans to reshuffle his cabinet following the heavy defeat his ruling party suffered in Sunday's regional election.
According to a statement from the Elysee Palace, Budget Minister Eric Woerth was named to replace Xavier Darcos as the new labor minister, while Darcos was ousted from the cabinet for his bad showing in the regional election.
Francois Baroin, former Interior Minister, was nominated as new Budget Minister. He is reported as ex-President Jacques Chirac's man.
Marc-Philippe Daubresse, member of the National Assembly, was to charge the Ministry of Youth and Solidarity. The 56-year-old lawmaker represents France's Nord Department and is member of the ruling UMP.
Georges Tron, an ally of Sakozy's rival Dominique de Villepin, was announced to serve as Secretary of State for Public Service.
During Sunday's runoff of the regional election, the opposition left-wing parties was estimated to have won 54.3 percent of the vote, while Sarkozy's party, just garnered 36.1 percent.
Losing all but one of the 22 regions in the mainland to the opposition, the ruling party is enduring massive pressure as the public and opposition parties blame the policies and reforms taken by the current government.
The Elysee later announced that Sarkozy would make a statement on Wednesday about the cabinet reshuffle, the first after the birth of the new government.
Before the decisive regional election, Sarkozy's personal approval rating has fallen at 36 percent, its lowest point.
A latest poll by Ipsos published Monday on the weekly magazine Le Point showed that over 58 percent of French people said they didn't want Sarkozy to run for a re-election in 2012. Xinhua