A car trip to Beirut via Syria
Traveling from southern Turkey to Lebanon via Syria in a car full of family members is an experience that I will never forget.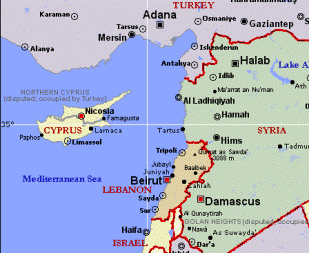 By: BARÇIN YİNANÇ
Traveling from southern Turkey to Lebanon via Syria in a car full of family members is an experience that I will never forget. I am glad I did it, but before I do it again there will need to be serious reform of the border bureaucracies and signage systems in all three countries.
The first time I heard that my older sister would be moving to Beirut, I knew I would travel to Lebanon several times during the three years she would be staying there. But I had not imagined that my first visit would involve overland travel via Syria, accompanied by my parents, my younger sister and her two kids.
I decided to make a surprise visit to my older sister for her birthday, March 11, motivated also by Turkey's recent decision to abolish visa requirements with Lebanon following a similar agreement with Syria. A car trip was not only attractive for the adventure it promised, but also because it eliminated the budgetary constraint of buying six plane tickets.
I had to admit, though, I was not very sure whether it was a brilliant idea to take a car ride with two elderly persons on their early 70s and two kids, both below the age of 10.
Not that I was worried about any security risks on the way to Lebanon, though the father of my nephews went berserk when he heard about the idea, asking how dare we take a car ride in a region that was, according to him, dangerous. He was not the only one voicing this concern, either.
Personally, I was more worried about the idea of traveling with my parents, who I had seen argue many times on the road about the way to take and where and when to stop, and with kids who argued all the time about everything. My younger sister's calm nature was, however, a source of comfort.
My parents and my younger sister drove from Ankara to the southern city of Antakya, a trip that can take six to seven hours, on Monday and spent the night in the city enjoying the local food. The next morning, I flew from Istanbul to Antakya and we departed around noon.
While the travel documents for the car could have been obtained from Ankara or Istanbul, we got it at the Cilvegözü border. A Turkish official from the Anatolian town of Çankırı sped up the bureaucracy after realizing that my sister worked at a hospital in Çankırı. We went through passport control without any problems, and quickly too, since there were not very many people lined up.
Crossing over to the Syrian side, we were a little bit surprised to see that there were so many buildings compared to the Turkish side. This gave us an early sign that we might be about to face a more complex bureaucracy.
Entering the first building on the left, we found out that we first had to exchange $55 to Syrian pounds in order to enter Syria by car.
Advice to travelers: Keep dollars on hand when you go to Syria. They do not accept Turkish Liras or Syrian pounds at the border.
A Turkish couple, who wanted to go to Aleppo for a day trip, was greatly disappointed upon learning this fact and was preparing to go back until we agreed to exchange their liras for some of our dollars. After exchanging the money, we then went to the next counter to pay. Receipt in hand, we then proceeded to passport control.
Advice to travelers: Don't expect a linear line in Syria – or in Lebanon. You have to make your way among people who are lined up horizontally, trying to squeeze their passports through a small window. Having long arms can help.
For me, I guess, being a woman helped. My father was no use, since he had decided to be a full tourist, observing the surroundings and reading everything he saw with the little Arabic he knows, leaving his "able journalist daughter" to deal the with bureaucracy.
After handing over all our passports, we waited a while and then the officer started to call us back one by one to return them. Then we drove to customs control. Our Volkswagen Golf was jam-packed. Yet the official had no mercy. We had to take everything out.
We then drove to the final exit gate, the one that would take us out of the border area, thinking we had accomplished it all. But just as I was saying, "I can't believe it, the bureaucracy is over; it was not that bad," an officer told us that the insurance for the car was missing. We made a U-turn and ended up in another building to pay $15 for the insurance. We went back to the exit gate, hoping we would finally make it into Syria. Yet the official told us this time that the passport of the driver has to be stamped. Angry that we were not told about that previously, we again made a U-turn, returning to the exit gate after another 15 minutes. We saw a car with a Turkish plate ahead of us making a U-turn and joked that it would not be the first for that vehicle.
In that way, at the end of two hours spent at the Syrian border, we finally made through and entered the territory of our southern neighbor.
The roads in Syria are quite good, usually four-lane highways. But when it comes to the signage, either the four adults in the car who were keeping their eyes on the road were totally incompetent or there was a real problem with the signs.
We were planning to stop in Aleppo for a late lunch. At one point, my father read a sign in Arabic that said, "Turn back for Aleppo." We started looking for the sign that would show us the exact point where we needed to turn back, yet the next sign we encountered again read, "Turn back for Aleppo." After seeing the same sign at least six times, we opted to eat in Hama instead. It proved quite painful to get out of the city to the intercity road to reach our next destination, Homs. We had to ask at least five or six times and make several city tours.
Finding our way from Homs to the Lebanon border town of Arida proved even harder.
All that time, as you might as well imagine, everyone started to blame each other: My father criticized me or my sister for driving too fast. The rest of us blamed my father, who was seated in front, for not properly reading the signs. My mother got her share of the temper for acting like a real backseat driver, constantly saying that we were going the wrong way without suggesting what the right one might be. My two nephews, aged 6 and 8, were probably terrorized enough by the discussion inside the car to create their own terror.
Advice to travelers: Syrians are still sensitive about journalists.
Going out of Syria again required a lot of bureaucracy. By that time, our patience had started to run thin, especially mine. My mother tried to calm me down as I insisted that I would show my frustration to the Syrian officials for having made us run in circles. We had to fill in forms to get out of Syria. I was not planning to write "journalist" in the profession box, since I did not have it inscribed in my passport. Yet since my father was taking care of the passports this time, when he was asked what I was doing as a profession, he said that I am a journalist. That landed me in the office of a superior officer.
As I was going into the office, my father averted his eyes from my angry glares. Yet I was welcomed by the officer with a smile. I was asked where I was working and after a short question-and-answer session in broken English, I was told several times, "no problem." He asked me to sit down while the rest of the passports were handled. We both started watching an Egyptian TV program and talked about the Turkish shows so popular in the Arab world.
A professor of history with a calm nature, my father continued to stand in line without worrying once about me sitting in the senior officer's office. When he was joined by my mother, who is of a rather panicky nature and asked about my whereabouts, he told her that I was being questioned by the police. Assuming that I had made a scene in order to end up with the police, she worriedly entered the room to see us just watching TV.
Finally, we left Syria and entered Lebanon.
Advice to travelers: If you do not get lost, the total drive between the Turkish border of Cilvegözü and the northern border of Lebanon takes three to four hours.
The Lebanese border was more organized, and knowing French and English helped a lot. We handled the bureaucratic matters more speedily than we did on the Syrian side. Yet the same lack of a linear line existed in Lebanon as well. On our way to and from, being a family enabled us to have priority in both Lebanon and Syria. But one has to admit that the Lebanese are more organized and less bureaucratic than the Syrians.
When it comes to roads, a four-lane one traversed most areas outside residential districts, while the one-lane road from the northern border to Beirut passed through residential areas. While the signage system is better in Lebanon, that does not mean there is no room for improvement. On our way back from Beirut, instead of leaving Lebanon from the Arida border gate, we left it from another one 15 kilometers away. We still cannot figure out how we managed to do that.
Though the Turkish border gates in no way compare to those of Lebanon or Syria, it does not mean that they are devoid of bureaucracy. On our way back to Turkey, we could not go out of the border gate to Antakya because we had missed one step in the bureaucracy.
At the end of the week, we all went back home, a bit tired, but happy that the trip did not end in a family tragedy. On the contrary, my older sister had the surprise of her life and we all enjoyed visiting Beirut. Hurriyetdaily