U.S.:Iran poses a major threat to regional stability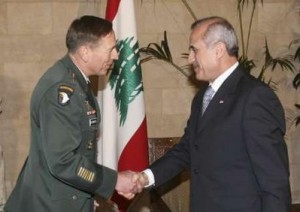 A top U.S. military commander says Iran poses a major threat to regional stability as it continues its nuclear program in defiance of U.N. Security Council resolutions.
General David Petraeus, commander of U.S. forces in the Middle East and Central Asia, told a Senate hearing Tuesday that if Iran were to obtain nuclear weapons capability, that would destabilize the region and likely spur a regional arms race.
He said Iran continues to arm, support and direct proxy extremist elements in Iraq, Lebanon, Gaza, and, to a lesser degree, in Afghanistan. He said Iran continues significant intervention in domestic politics in those areas.
Regarding Afghanistan, the U.S. general said the situation there is likely to get harder before it gets easier. He said this year will be difficult, predicting that progress against the Taliban will be achieved, but that there will be tough fighting and periodic setbacks.
Petraeus said developing the Afghan national security forces is central to progress in Afghanistan.
He also said Iranian government actions inside Iran are troubling. He said the violent suppression of demonstrations following last year's disputed presidential election made a "mockery" of the human rights of the people and fomented further unrest.
The head of U.S. Central Command also expressed concern about extremists in Yemen. He said the group al-Qaida in the Arabian Peninsula is exploiting Yemen's security, economic and social challenges.
He said the al-Qaida group in Yemen is a threat not only to that country and the region, but also the United States, as demonstrated by the attempted Christmas Day bombing of a U.S.-bound airliner, allegedly by a Nigerian man who trained in Yemen.
Photo: General David Petraeus, commander of U.S. forces in the Middle East and Central Asia  seen  with Lebanese president Michel Suleiman  during his last visit to Lebanon. VOA