Hariri praises German support for Lebanon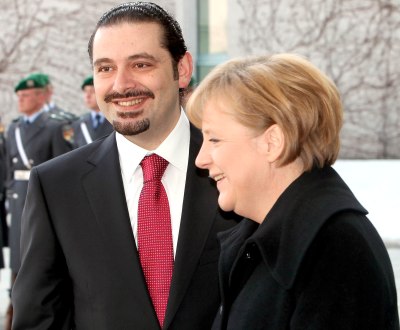 Prime Minister Saad Hariri who is in Germany on a 3 day official visit held a joint press conference on Monday with German Chancellor Angela Merkel .
Merkel said Israel is unlikely to wage a war on Lebanon.
Merkel also said Germany does not intend to withdraw its troops from UNIFIL in southern Lebanon. The chancellor added that Lebanon is growing more stable .She called on all states to support the peacekeeping forces.
In comments about the Palestinians and Israel Merkel said " indirect Israeli-Palestinian negotiations should resume as soon as possible". She added : "Israel's decisions to expand its settlement activity endangers the peace process."
Merkel also called for sanctioning Iran over its disputed nuclear program, adding that Tehran "has not accepted the constructive offers we have made and has even rejected them."
Hariri, in turn, said that there is no noticeable progress in the Middle East peace process. He voiced hope that diplomacy would yield a solution.
The Lebanese PM praised Germany's role in implementing UN Security Council Resolution 1701 and helping Lebanon maintain stability.
"Lebanon's security is linked to the region's security," Hariri said, praising the European Union for being committed to Middle East peace.
During a meeting Sunday with the Lebanese community Hariri praised German support for Lebanon : "Germany was among the countries that rushed to help Lebanon after the July 2006 war," Hariri told the Lebanese community in Germany.
"National unity is the boat to salvation for us in the face of all challenges," Hariri said.
Hariri stressed that "we will not be able to rescue our country if we decide to stay just sectarian tribes squabbling over power in Lebanon."