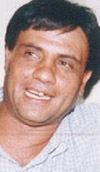 A man claiming to be a former Syrian intelligence officer, who was jailed for six months over a forged passport, remains in Al Wathba prison nearly a year after his conviction because he faces execution if deported.
Mohammed Zuhair al Siddiq came to the UAE using a fraudulent Czech passport, which he said was given to him by French intelligence operatives hoping to protect him.
At one point, Mr al Siddiq was considered a key witness in the 2005 assassination of the Lebanese prime minister Rafiq Hariri. But after his testimony and background were discredited, Mr al Siddiq was expelled from France.
His Lebanese wife, son and daughter followed him here. After a year of operating an import-export business in the Ajman Free Zone under his assumed identity, Sami al Sayeed, Mr al Siddiq was arrested for using the fraudulent passport in April 2009. Both Syria and Lebanon have asked for his extradition.
During his trial, Mr al Siddiq protested that he would be executed if deported to either country. At one hearing, at the Federal Supreme Court, he sat on the ground and refused to move until he was granted a meeting with the federal attorney general at the Ministry of Justice to explain his plight.
According to Mr al Siddiq, he was working for the Syrian mukhabarat, or intelligence service, when he and his wife were living between Beirut and Damascus.
A family member, who did not want to be named, said Mr al Siddiq would travel back and forth on the Beirut-Damascus motorway to meet his Syrian employers. His cover was that he operated a herbal shop in Beirut.
"When he came to learn of the plot to assassinate Hariri, he wrote letters to complain, but no one listened," the family member said.
Mr al Siddiq later said the first stages of the planning were carried out in his Khaldeh apartment in the second half of 2004.
On February 14, 2005, a lorry carrying approximately 1,000kg of TNT exploded as Mr Hariri and his motorcade passed it, killing Hariri and 21 other people.
Mr al Siddiq claimed to have resigned from the mukhabarat in protest. He contacted the United Nations when he learnt that a tribunal was being launched to investigate the assassination. He was flown to Spain, where he met investigators.
Mr al Siddiq said French authorities offered him asylum in their country, and he remained there with his family until 2007. During that period, Mr al Siddiq gave evidence to the investigators and was considered a key witness that could show the involvement of Syria and several Lebanese generals in the assassination.
However, his evidence was labelled "not credible" by the tribunal, which is continuing.
According to one family member, life was difficult in France for the family. They were "constantly followed and watched", the relative said.
In the meantime, a Lebanese court, trying him in absentia, sentenced him to death for his role in Mr Hariri's assassination. An international arrest warrant was issued for him and, days later, he was arrested in a Paris suburb. He spent the next four months in prison bargaining not to be deported to Lebanon.
"France, seeing no guarantee that he would not be executed, declined. The Lebanese prime minister [in 2007], Fouad Siniora , gave the French a verbal confirmation that he would not be executed, but the French still refused," the family member said.
Mr al Siddiq's wife and children came to the UAE in August 2007 with hopes of starting a new life. France released Mr al Siddiq, and he said he used the fraudulent Czech passport to enter the UAE. Besides the passport, he said he was given a set of documents to match his new identity. His wife and two children, who appeared at every court hearing, could not be reached for comment yesterday. Mr al Siddiq's fate remains unclear.
A court official said the only way Mr al Siddiq would be released was if another country agreed to take in him and his family. National