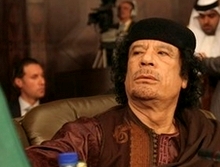 Voice of Lebanon has reported that the Libyan authorities handed over to the Lebanese ambassador in Syria, Michel Khoury, an invitation to participate in the Arab summit to be hosted by Libya around the end of March, but Khoury expressed reservations about receiving the invitation .
The reservations by Khoury was interpreted as an official rejection of the invitation by the Lebanese authorities.
Libya's strongman Moammar Gaddafi has been delivering invitations through two envoys who have been traveling to the various Arab countries to hand out the invitations to the top leaders, but the Lebanese president never received his invitation.
President Michel Suleiman has already announced last week that he will not attend the Arab summit in Libya.
The Shiite community has urged the president not to attend and has been lobbying for a complete boycott of the summit.
Sources from Speaker Nabih Berri's told An Nahar newspaper that "Lebanon's participation in the summit is a very dangerous issue and would worsen the situation in the country."
Shiites accuse Kaddafi of being behind the disappearance of Amal Movement founder Imam Moussa al-Sadr. In 1978, the Shiite religious leader flew to Tripoli for a week of talks with Libyan officials , but disappeared while he was there.
Arab League chief Amr Moussa said Lebanon will be represented at the summit , but did not say at what level. Most probably according to observers Lebanon may either send a low level delegation or skip it all together.