Amr Moussa: Israeli-Palestinian talks on hold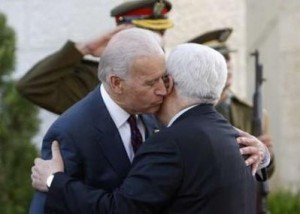 Palestinian Authority President Mahmoud Abbas will not enter into indirect peace talks with Israel as planned, Arab League Secretary-General Amr Moussa said overnight Wednesday, due to the approval of plans to build 1,600 housing units in Ramat Shlomo in east Jerusalem.
"The Palestinian president has decided that he does not intend to enter negotiations at this stage," Moussa said at a press conference in Cairo.
Moussa's comments came after visiting US Vice President Joe Biden condemned the plan for the second time in 24 hours, this time standing in Ramallah next to Abbas.
"Yesterday the decision by the Israeli government to advance planning for new housing units in east Jerusalem undermined that very trust, the trust that we need right now in order to begin as well as have profitable negotiations. That is why I immediately condemned the action," Biden said after meeting Abbas.