PLO gives approval for indirect talks with Israel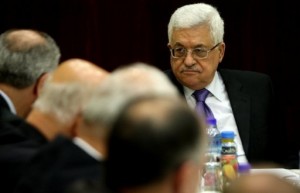 A skeptical Palestinian leadership agreed Sunday to begin U.S.-mediated peace talks with Israel, effectively ending a 14-month breakdown in communications between the two sides.
Sunday's decision marks a first achievement for U.S. diplomacy in the Israeli-Palestinian arena.
The announcement was made as the U.S. mediator, George Mitchell, was meeting in Jerusalem with Israeli Prime Minister Benjamin Netanyahu. Israel has welcomed the prospect of negotiations.
In coming months, Mitchell is expected to shuttle between Palestinian President Mahmoud Abbas' headquarters in Ramallah and Netanyahu's office a half hour away in Jerusalem.
Sunday's decision by leading members of the Palestine Liberation Organization came a day before U.S. Vice President Joseph Biden begins the highest-level visit to the area by an Obama administration official.
The Palestinians broke off the talks when Israel launched its bruising offensive in the Gaza Strip in December 2008 to stop daily rocket fire from Gaza.
Abbas refused to relaunch negotiations without an Israeli commitment to freezing all construction on lands they claim for a future state. Israel agreed to a construction slowdown but resisted a total freeze.
The standoff put Abbas in a bind. He didn't want to stymie U.S. efforts to relaunch talks, but he did not want to be seen as abandoning his demand for a settlement construction freeze.
Abbas also could not afford to ignore the populist appeal of Hamas militants, who overran Gaza in 2007 and advocate armed confrontation against Israel.
The concept of indirect talks gave him a way to sidestep his refusal to negotiate with the Israelis while they continue to build in east Jerusalem and the West Bank. The Arab League endorsed the idea of U.S.-mediated talks last week, giving him the backing of the Arab world — and a cover should the talks fail.
Netanyahu has said he prefers direct peace talks, but would accept mediated negotiations.
For more than a year, the Obama administration has been laboring to get both sides negotiating again, disappointed to discover that its plan to fast-track peacemaking would be frustrated by deeply rooted conflicts and domestic politics.
The U.S.-mediated talks are expected to focus on guidelines for discussing the key issues that have divided Israelis and Palestinians for decades: final borders, the fate of millions of Palestinian refugees, and a resolution to the rival claims to Jerusalem.
Yasser Abed Rabbo, a PLO spokesman, said Sunday that the indirect talks should focus on drawing a border between Israel and a future Palestinian state.
Netanyahu, who leads a hawkish coalition, takes a harder line on territorial concessions than his predecessor, Ehud Olmert, with whom Abbas failed to reach an agreement in 2008.
In November, under heavy U.S. pressure, Netanyahu persuaded his Cabinet to authorize an unprecedented 10-month settlement construction slowdown. But Israel continues to build 3,000 apartments that were authorized before, and construction in east Jerusalem has not been restricted.
Netanyahu has also riled Palestinians recently by placing two West Bank shrines on Israel's register of national heritage sites and declaring that Israel would insist on retaining a presence in the West Bank valley that borders Jordan under a final peace deal.
In the past, failed talks have touched off years of violence.AP