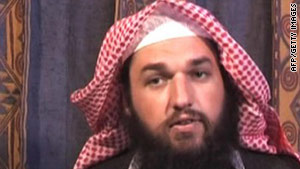 Adam Gadahn, an American spokesman for al Qaeda, has been arrested in Pakistan, a senior Pakistani government official source told CNN.
The official said Gadahn was arrested Sunday in Karachi.
Gadahn, also known as Azzam the American, routinely posts lengthy videos on Islamist online forums. He was born in California.
In December, he released a video message in English offering condolences to "unintended Muslim victims" killed in attacks in Afghanistan, Pakistan and elsewhere. It was a rare example of al Qaeda offering condolences to the families of those killed in the group's own attacks.
In 2006, he was indicted on charges of treason and providing material support to terrorists. The U.S. government has offered a $1 million reward for information leading to his capture. In a 2008 video, he renounced his U.S. citizenship and destroyed his passport.
Earlier Sunday a video was released showing Gadahn praising an Army major of Palestinian descent who is charged with shooting other soldiers at Fort Hood, Texas. The mass shooting "lit a path" for other Muslim service members to carry out such attack, Gadahn said in the video, which was posted Sunday on Islamist web sites.
"I believe that defiant Brother Nidal is the ideal role model for every repentant Muslim in the armies of the unbelievers and apostate regimes," Gadahn says in English.
Maj. Nidal Hasan, an Army psychiatrist and a U.S.-born citizen, is charged with 13 counts of premeditated murder in the November 5 shootings at Fort Hood and 32 counts of attempted premeditated murder. Hasan is eligible for the death penalty.
"The Mujahid brother Nidal Hasan is a pioneer, a trailblazer and a role model who has opened a door, lit a path and shown the way forward for every Muslim who finds himself among the unbelievers and yearns to discharge his duty to Allah and play a part in the defense of Islam and Muslims."
In Sunday's message, Gadahn cited the U.S. and allied buildup in Afghanistan, where the United States is in the process of adding about 30,000 troops to the conflict.
"It is rapidly becoming clear that this already hot global battle is about to get even hotter," he says. "This is a war which knows no international borders and no single battleground, and that's why I am calling on every honest and vigilant Muslim in the countries of the Zionist-Crusader alliance in general and America, Britain and Israel in particular to prepare to play his due role in responding to and repelling the aggression of the enemies of Islam."CNN
This error message is only visible to WordPress admins
Error: No connected account.
Please go to the Instagram Feed settings page to connect an account.