Thousands of Iraqi expatriates vote in election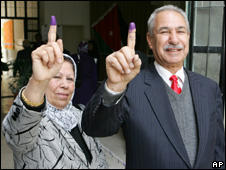 Hundreds of thousands of Iraqi expatriates have begun voting ahead of the main polling day for the country's general election on Sunday.
The United Nations refugee agency estimates around 2 million Iraqis live abroad, the bulk leaving after the US-led invasion of Iraq in 2003.
The largest number of Iraqi expats live in neighboring Jordan and Syria.
Friday is also the last day of campaigning in Iraq, amid pre-election violence and heavy security.
The Iraqi election commission says there are polling stations in nearly 60 cities worldwide and voting is staggered over three days.
Expat votes cast in Jordan and Syria could play a deciding role in a tight election race, counting for around 10 seats in the 325-member parliament, which will form the next government.
Estimates on how many Iraqis live in Syria vary – figures range from 300,000 to 1.2 million.
Many are refugees and some oppose the government of current Prime Minister Nouri Maliki. In this election, opponents of the prime minister have been urging the expat community to go out and vote.
Reporting from Damascus, the BBC's Natalia Antelava says some Iraqis living in Syria criticize Mr Maliki for ignoring their problems, for failing to secure their return and for deepening Iraq's sectarian divisions.
Among Iraqi expatriates in Syria there are many Sunnis Arabs and many former members of Saddam Hussein's Baath party.
Many say that it is too dangerous for them to return to Iraq while it is ruled by a Shia prime minister, our correspondent says.
She says that for his part Mr Maliki believes former Baathists are trying to undermine security gains made by his government by staging attacks back in Iraq.
Tight security
The elections are seen as a crucial test for Iraq's national reconciliation process ahead of a planned US military withdrawal in stages.
There has been pre-election violence and insurgents have vowed to disrupt the poll. On polling day itself, more than 200,000 security personnel will be on duty in Baghdad.
Travel around the country has been restricted and the authorities have canceled all leave for security services.
On Thursday at least 14 people were killed in Baghdad as suicide bombers attacked two polling stations in different parts of the capital. Earlier in the day, a mortar attack on a crowded market killed seven.
Security forces, detainees and hospital patients were able to vote on Thursday. There was a reportedly high turnout, with estimates suggesting 800,000 people cast ballots.
On Wednesday, three suicide bombers attacked police and a hospital in Baquba, a city north of Baghdad, killing at least 30 people. BBC