A Lebanese confesses to involvement in Hezbollah killing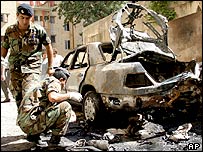 During an interview published Tuesday by the daily As-Safir, Police chief Brig. Gen. Ashraf Rifi said Michel Abdo, a Lebanese man who was arrested last month on suspicion of spying for Israel has confessed to involvement in a 2004 bomb attack that killed senior Hezbollah official Ghaleb Awali.
Rifi said Abdo was tasked with securing and facilitating the transportation of Mossad agents from Naameh to Awali's home in Moawwad neighborhood in Beirut's southern suburbs.
A security source told As-Safir that the Abdo was a former member of Antoine Lahd's militia.
Awali was killed as he started his car outside his home on Monday 19 July, 2004.