IAEA chief can't confirm Iran nuke work peaceful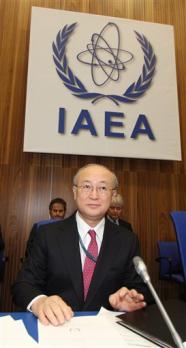 The chief of the International Atomic Energy Agency said Monday he cannot confirm that all of Iran's nuclear activities are peaceful, choosing his words carefully after tensions were sparked by his recent suggestion that Tehran may be working on a secret arms program.
International officials separately revealed a new source of friction between Iran and the international agency, telling The Associated Press that Iran was resisting agency efforts to improve monitoring of the Islamic Republic's recently launched higher enrichment program.
Iran started enriching uranium to near 20 percent about three weeks ago, from the previous 3.5 percent level. Iran says it is doing so to create fuel for a research reactor, but the move increased international concern because it moves the country closer to creating weapons-grade material that can be used to arm missiles.
The officials said that since then, Iran has resisted agency requests to be able to mount additional cameras to monitor the new program.
The officials, who asked for anonymity because their information was confidential, specified that cameras previously in place were now trained on Iran's new enrichment effort but said the agency believed it needed additional equipment to be able to fully watch the process.
Asked whether his agency was able to monitor the new enrichment program as closely the previous one, enriching to 3.5 percent, IAEA chief Yukiya Amano said making the needed adjustments "takes a certain amount of time."
Members of the 35-nation International Atomic Energy Agency board were closely following Amano's statement opening the March board session to see if he would follow up on his hard-hitting Iran report issued last week.
In that document, Amano — who took the post in December — expressed concern that Iran may be working on making a nuclear warhead, suggesting for the first time that Iran had either resumed such work or never stopped when U.S. intelligence thought it did.
Iran denies any interest in developing nuclear arms, contradicting a 2007 U.S. intelligence assessment concluding that Iran had worked on such weapons before apparently suspending such activities in 2003. Amano's report, in contrast, suggested Iran never froze its experiments, expressing "concerns about the possible existence in Iran of past or current undisclosed activities related to the development of a nuclear payload for a missile."
The Japanese diplomat was more circumspect Monday, devoting only four paragraphs to Iran in eight pages of comments. His assessment that the agency "cannot confirm that all nuclear material in Iran is in peaceful activities" was less forceful than the central finding of his report.
The careful wording was reminiscent of language used by Amano's predecessor, Mohamed ElBaradei. The Egyptian diplomat was occasionally accused by the West of being too soft on Iran.
Ali Asghar Soltanieh, Iran's chief delegate to the meeting, was pleased by Amano's change in tone.
"This oral report of Mr. Amano was a little bit better than the written," he told reporters, calling the written report "unjustified and not acceptable."
A diplomat from one of the board member countries said Amano was attempting to defuse passions generated by his report and seeking to head off potential confrontation with Iran's allies on the board — nonaligned nations Iran counts upon for support. He asked for anonymity because he was not authorized to talk to the media.
These nations, which make up about a third of the board, often blame the U.S. and other Western nations accusing Iran of harboring weapons ambitions of making unsubstantiated accusations. And they are suspicious of what they see as attempts by developed nations to block them from acquiring peaceful nuclear technological know-how and back Iran when it depicts itself as a victim of such endeavors.
Such sentiments were reflected in a confidential statement from developing nations prepared for delivery later in the week at the board session and made available to The Associated Press.
"States' choices and decisions, including those of the Islamic Republic of Iran, in the field of peaceful uses of nuclear technology … must be respected," said the statement.
Indirectly criticizing Amano's choice of words in his report, the statement noted "with concern the possible implications of the departure" from previous report language.
It took three rounds of elections last year for Amano to prevail over South Africa's Abdul Minty — a contender backed by most developing nations — reflecting the persistent North-South divide that frequently bedevils attempts to reach consensus at board meetings.
Iran is under three sets of U.N. Security Council sanctions for refusing to freeze uranium enrichment — a potential pathway to nuclear weapons — and other activities generating concerns that it seeks to make fissile warhead material. It insists, however, that it is enriching only to make nuclear fuel for an envisaged reactor network. AP