Mitri: Cabinet forms a commission to discuss reforms/amendments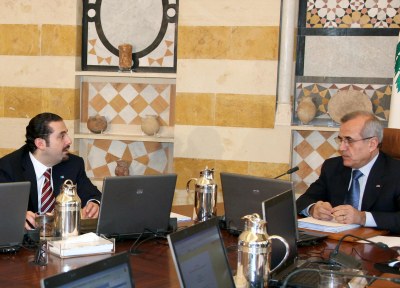 Lebanon's Information Minister Tarek Mitri briefed the media following the cabinet meeting at the Baabda palace.
Municipal elections :
The ministers agreed to adopt Interior Minister Ziad Baroud's second draft of a reformed municipal electoral law. However, the cabinet decided to form a commission to discuss further the amendment in the draft concerning the committee that will monitor the elections, he added.
"The commission consists of Interior Minister Ziad Baroud, Health Minister Mohammed Jawad Khalife, State Minister Jean Ogassapian, and Energy and Water Minister Jebran Bassil."
Last week the cabinet approved a proportional-representation system for the elections and tasked Baroud with preparing a draft that would include all the municipal electoral law amendments.
Suleiman:
President Michel Suleiman briefed the cabinet on his trip to Russia earlier in the week. Russia on Friday agreed to donate grant of Mi-24 attack helicopters to Lebanon instead of the previously promised MiG-29 fighter jets.
Defense Minister Elias al-Murr and the Lebanese army asked for the switch after conducting a study on the issue, Mitri said
Suleiman also discussed the military agreement he signed on Thursday with Russia.Murr refused to reveal details of the military agreement during a Thursday interview with LBCI. However, Mitri said that the agreement deals with military training and the exchange of information regarding terrorism.
Suleiman reiterated in Russia his support for granting Lebanese nationality to people of Lebanese descent and developing a mechanism that would allow Lebanese living abroad to vote from their countries of residence. Suleiman had met with Lebanese expatriates in Russia during his visit.
He informed the Cabinet about his intention to visit Saudi Arabia on March 6."
Ethiopian plane crash ET409
Prime Minister Saad Hariri spoke to the cabinet about the Ethiopian plane that crashed last January and stressed that the issue should not be politicized. Hariri also expressed his annoyance with the statement issued Wednesday by Ethiopian Airlines accusing Lebanese officials of making misleading comments on the cause of the crash.
The Cabinet postponed to Thursday the final approval of the reforms to the municipal electoral law pending a decision on the supervision committee issue. The cabinet will convene next on Thursday, Mitri said.
2010 Budget
The information minister revealed that the 2010 state draft budget will be ready next week.