Earthquake in Japan and Chile, alarm Tsunami in the E. Pacific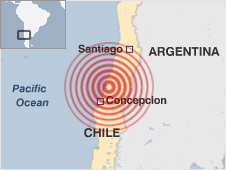 A strong earthquake of intensity 7.3 hit Japan in the early morning (at 5:31 local time), about 80 km from the island of Okinawa. But an even stronger quake with a magnitude of 8.3 struck the central region of Chile, at about 6:34 GMT.
The epicentre was fixed at 91km north-east of Conception and 317 km south-west of the capital Santiago. So far there are no reports of deaths or damage. Japan has issued a tsunami warning, which was later withdrawn and there were no reports of significant damage. In the case of Chile, the earthquake seems to have been much stronger and tsunami alarm has been launched. Strong waves could hit the coast of Chile, Peru and Ecuador. Phones and Internet have been affected.
Japan and Chile are both countries with a long history of earthquakes. In 1995 a quake measuring 6.9 struck the Japanese city of Kobe, killing more than 6 thousand people. A major earthquake occurred in Chile in Valdivia in 1960. Measuring 9.5 it killed 1655 people. Asianews